More >
Government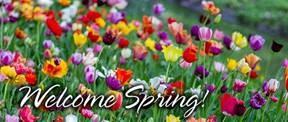 Soon the weather will stay warm and we at the City of Wynne are excited and ready for spring to be here!
As the weather warms up, we're all going to be outside more, shaking off the cabin fever of winter and soaking up some Vitamin D! It's a great time to go watch a ball game, spend some time fishing or just enjoying one of the city parks with your family.
Safety should always be a top priority, but even more so with our citizens enjoying the beautiful spring weather. With warmer weather and longer daylight hours, many of us will spend more time outside. Whether taking a walk, jogging, or biking, always be aware of your surroundings and take the necessary precautions to protect yourself and those around you.
Please slow down and take extra caution when driving through residential neighborhoods. It is likely that more children in our community may be playing near roads. When drivers maintain safe speeds and practice other safe driving behaviors, safer environments are created for our community.
The National Highway and Safety Administration has the following tips on driving safely for pedestrians:
Look out for pedestrians everywhere and at all times.
Be extra cautious when driving in hard-to-see conditions and backing up your vehicle.
Be prepared to yield to pedestrians in crosswalks and stop your vehicle well back from the crosswalk.
Never pass vehicles stopped at a crosswalk.
Follow the speed limit, especially around people on the street, in school zones, and in neighborhoods where children are present.
Never drive under the influence.
For more information on driving safely for pedestrians, please visit the National Highway and Safety Administration.
As always, my door is open and I encourage you to bring any issues to myself, or one of my department heads. Feedback is vital to the success of our city, let us know what ideas you may have to make our "City with a Smile" an even greater place to live.
Wishing you a fantastic spring season,
Mayor Jennifer Hobbs
---
Message From the Mayor
It is a privilege to serve as the Mayor of the City of Wynne. I am honored to lead a team of dedicated, professional Officials and Administrative Staff who work daily to serve the place we call home. We take great pride in serving our community, where neighbors help neighbors, and where we rely on each other to uphold the principles of kindness and respect for others.
We appreciate the support of the residents of Wynne and your efforts to assist the City. Community engagement is key to helping us maintain safety, welfare and protection for all City residents. The City's website provides an avenue for the public to submit information or tips to our Office via email to assist with these community engagement efforts. If you have a concern or information you'd like to share, please submit it to us.
Again, I am honored to serve as your Mayor and appreciate your support.