More >
Government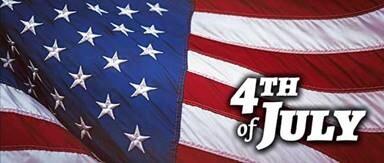 The City of Wynne wishes you and your family a safe and exciting 4th of July holiday!
The 4th of July, known as Independence Day, celebrates our independence as a nation on July 4, 1776. To learn more about the History of America's Independence Day, please visit the Public Broadcasting Service (PBS).
As you celebrate with friends and family, we would like to remind you to be safe and take precautions to ensure the safety of our community. It is important to remember that fireworks can pose a fire and safety hazard to those who use them.
The United States Consumer Product Safety Commission (CPSC) has the following safety tips for fireworks:
Never allow children to play with or ignite fireworks.
Always read warning labels and performance descriptions before lighting a firework.
Keep a bucket of water or a garden hose handy in case of fire or other mishap.
Only light fireworks one at a time.
Never place any part of your body directly over a fireworks device when lighting the fuse, and move to a safe distance immediately after lighting fireworks.
Only use fireworks outdoors, away from buildings and vehicles, and never point/throw fireworks at anyone.
After fireworks complete their burning, to prevent a trash fire, douse the spent device with plenty of water from a bucket or hose before discarding the device.
For more information on firework safety, please visit the United States Consumer Product Safety Commission (CPSC).
We caution anyone traveling during the holiday to always wear your seat belt and never drive under the influence of drugs or alcohol. Instead, plan for a designated driver to get you home safely. Not only do you risk your life when you drive impaired, but you also put the other drivers and passengers you share the roadway with at risk.
The City of Wynne hopes you and your family have a great 4th of July holiday!
Mayor Jennifer Hobbs
---
Message From the Mayor
It is a privilege to serve as the Mayor of the City of Wynne. I am honored to lead a team of dedicated, professional Officials and Administrative Staff who work daily to serve the place we call home. We take great pride in serving our community, where neighbors help neighbors, and where we rely on each other to uphold the principles of kindness and respect for others.
We appreciate the support of the residents of Wynne and your efforts to assist the City. Community engagement is key to helping us maintain safety, welfare and protection for all City residents. The City's website provides an avenue for the public to submit information or tips to our Office via email to assist with these community engagement efforts. If you have a concern or information you'd like to share, please submit it to us.
Again, I am honored to serve as your Mayor and appreciate your support.